For a truly authentic experience, stray from the tourist path and find your way to the Feria de Sao Joaquim – the historic grower's market in Salvador, Bahia. Located between All Saints Bay and Oscar Pontes Avenue, the huge and historic market complex is like a labyrinth into the heart and soul of Bahian culture. Not only is it a place for locals to find incredible bargains but it was once a popular hangout for several famous Brazilian bohemians during the mid-twentieth century, including artist Carybé and writer Jorge Amado. The fence and gates were in fact created by the Carybé.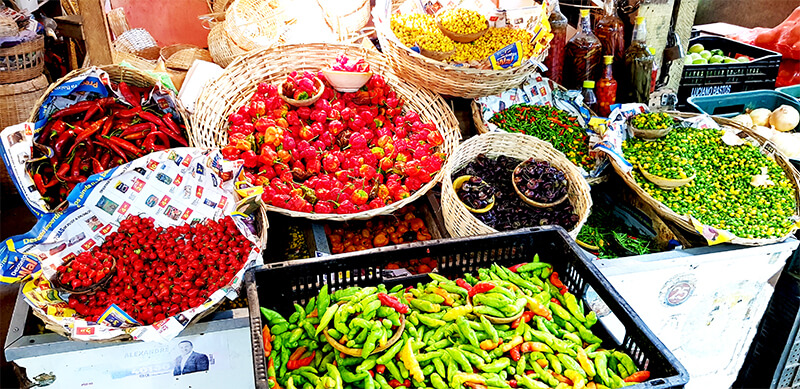 You will be mesmerised by the exotic fruits and vegetables, the truck loads of drinking coconuts (I presume this is where all the vendors on the beaches get them), the beautiful arrangements of vibrantly coloured chilies (pimenta) and various shades of red dried prawns (camarrão seco), and all the other essentials for Baiana cooking, such as palm oil (azeite de dendê), dry beans (feijão), limes (limão) and meat offal (miudezas de carne).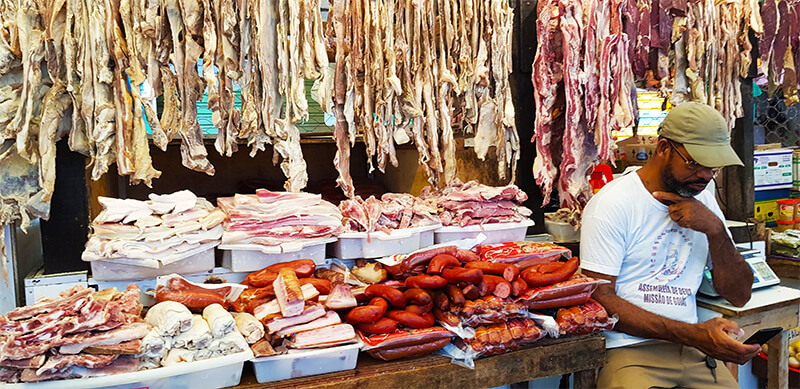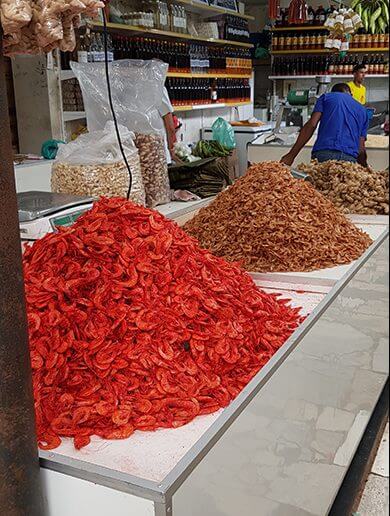 But what you might find most fascinating are the stalls dedicated to supplying Salvador's spiritual needs. Rows of intricate religious statues and idols of all shapes and sizes – Catholic Saints, Candomblé orixás, and various talismans. Incenses, dried and fresh plants, herbs and fruits for potions and offerings. And many different ceremonial items for all the religions. The smells and colours that will confront you are incredible. It is a very a great experience.  However, this is only a fraction of what is for sale, hence, it is the perfect location to find an authentic gift or souvenir.     
The produce in this market is purchased by restaurant, boteco and food stall owners from all across the city of Salvador. However, some of these great restaurants and botecos are located in the market compound and have fantastic views of the harbour and bay. This is a popular place for locals to meet, eat and drink. Stop for lunch and try the feijoada, moqueca, or any of the many other classic Baiano dishes available. On Sundays there is live Samba performed from late morning until evening. Watch the locals dance and give it a try yourself.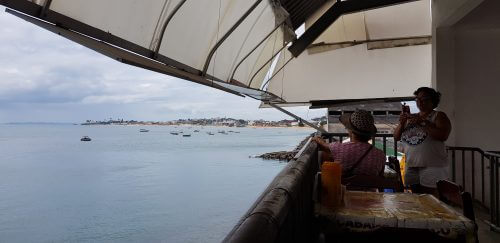 Just make sure you bring cash and lots of small notes (5, 10 reals) because some stallholders and food vendors might not have change for the larger notes. Also remember to not have valuables exposed such as mobile phones, cameras and wallets, markets always have pickpockets.
As you wander through this market you will notice you are the only gringo there. If you are a bit anxious about going alone then I highly recommend hiring a guide who knows the place back-to-front and will have you feeling like local in not time (here is a good one you can contact before you arrive).