A simple rural classic
Here we have a classic regional dish from the state of Minas Gerais. Inspiration for this recipe was found in a small homemade ring-bound cookbook that I purchased for 5 reals in an 18th-century igreja (church), known as Igreja Nossa Senhora do Rosário dos Pretos located in the historic town of Tiradentes. A collection of local recipes from grandmothers, passed down through the generations. The book was being sold to raise money for the churches in the village. I could not resist buying it.
If you travel across Minas Gerais, you will discover the roadside restaurant/bars that serve traditional local food, cooked on a woodfire stove (this is known as a fogão a lenha). This food is usually spread out, over the stove, with the food in cast iron pots. Typically, you pay for the plate and then serve yourself the food (an example of this can be seen in the video above).  It is here that you will definitely find frango caipira, and likely frango caipira com quiabo, if they have okras at hand.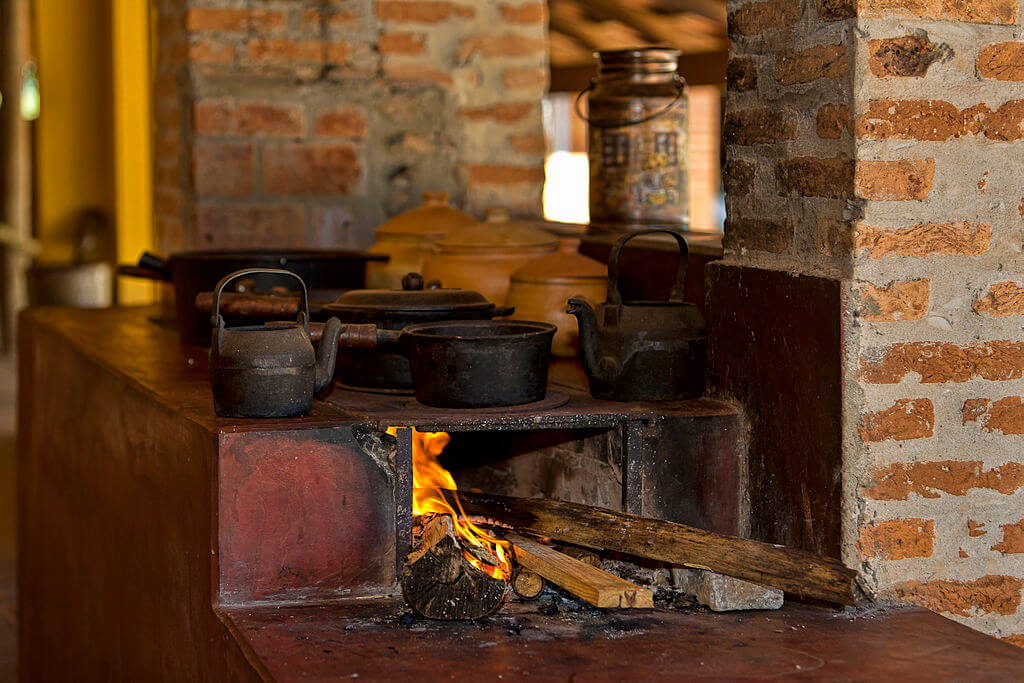 What does Caipira mean?
The word caipira, means "bush cutter" in Old Tupi (an indigenous language) and is the name given to a rural inhabitant of Southern-Central Brazil. The Caipira is a celebrated and romanticised figure in Brazilian folklore. They are known for being simple, humble and hardworking people who just gets on with it. If you have ever been to, or seen, a Festa Junina celebration event, you will have noticed people dressed in jeans, chequered flannel shirts, straw hats, and painted freckles dotted on their face. These people are dressing in a costume of the stereotypical Caipira look.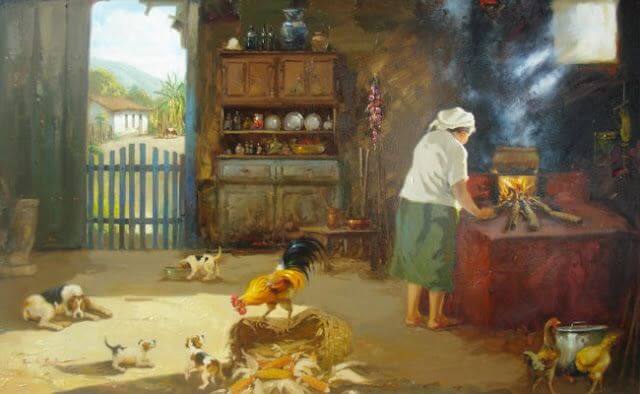 How to cook Frango Caipira com Quiabo
This is a dish that you will see cooked in many different ways. Every region, city, state, family and mother has a slight variation on it.
You will need:
1 whole large chicken size 15 or more (or 1.5kgs of chicken pieces) feet and giblets are optional.
1kg of okras
1 large onion
5 cloves of garlic
2 x limes
2-3 bay leaves
3 table spoons of mild paprika
1 cup of parsley
1/3 cup of coriander
salt
water
lard or vegetable oil
Utensils required:
A large cooking pot 5-10 litres
A large mixing bowl
A heavy butchers knife or meat clever (if you plan to butterfly and portion the chicken yourself.
A small frying pan for the okras.
Method
Place the chicken on a chopping board and proceed to butterfly it by removing the backbone and then snapping the breastbone.
Remove the small bones, ribs, lose fat, etc. (skip 1 and 2 if you are using chicken pieces)
Cut chicken into manageable portions using the meat clever or knife.
Place chicken into a bowl and cover with salt and the juice of the limes. Massage in and marinate for at least 1 hour.
Place 4 or 5 tablespoons of chicken fat, lard, or vegetable oil into the pot and heat.
Dice the garlic cloves and throw into the oil. The oil should be hot enough that you hear the sizzle sound. Sauté the garlic until brown.
Add the chicken, piece by piece, and shallow fry until browned. Use a wooden spoon to stir when needed to prevent the chicken sticking to the bottom of the pot and burning.
Once browned, add a cup of water. This is to begin making a sauce. stir it so everything is even.
Turn down the heat, place a lid over the pot, and leave to simmer for 20 minutes.
Now you can add the bay leaves and paprika.
Re-place the lid, turn down to low heat and let simmer for a further 15 minutes.
Now it is time for the onions to be added. Remove the lid and add extra water if the sauce has all evaporated away.
Mix in the onions.
The okras, cut them into small bites size pieces (perhaps into thirds). Put the small frying pan on a mid-to-high heat and add a few tablespoons of fat or oil. When hot enough to sizzle, fry the okras. The idea is you are sealing them so they are slightly crisp and will not dissolve while cooking. Once slightly brown and crisp, remove them from the oil and put aside.
About 20 minutes before serving, mix in the parsley and coriander (keep some parsley for garnish). Stir through. Add a bit of water if it is a bit dry and lacking a saucy texture.
10 minutes before serving, turn up the heat and add the okras. Do not add the okras until the chicken is completely cooked and you are getting readyt o serve, otherwise they will melt.
Remove from heat and serve hot over polenta or rice.