Explore Brazilian Food, Travel and Culture with…
Ellioti's
Pastel de feira com queijo (Deep-fried pastries filled with hot melted cheese)
A popular snack sold with sugarcane juice in street markets across Brazil.
Brazil's favourite street food…
The pastel is a Brazilian adaption of the wonton and gyoza and is said to have originated with early Chinese immigrants. However, today the pastel is more closely aligned with the Japanese Brazilian community, who have dominated the production and sale in the larger cities and regional hubs for most of the 20th century.
The pastel is an incredibly popular snack in Brazil and even more popular with students and expats living abroad who long for (com saudade) the food of Brazil. Pastels are particularly popular because they are the ultimate comfort food. Typically, a purchased from a stall in an open-air street-market (feirar) and you would purchase it as a combo with a cup of sugarcane juice (caldo de cana).
Common fillings you can expect to find are chicken and cream cheese (frango catupiry), beef mince, palm hearts (palmitos) and cheese (queijo). However, they are not exclusively savory (salgado) but can also be sweet (doce) with filings such as chocolate, banana, and guava paste (goiabada).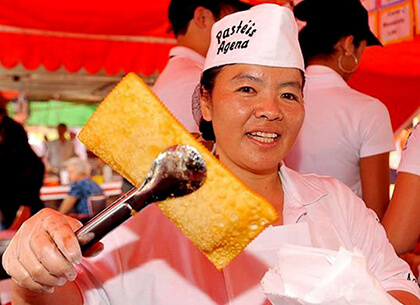 Recipe
(Receita)
You will need:
3 cups of plain flour (keep extra for flouring the bench for kneeding)
1 cup of water
3 tablespoons of lard or vegetable oil
1 shot of cachaça or rum
1 teaspoon of salt
750ml of vegetable oil or dripping
300g of mozzarella cheese
Utensils required:
A large cooking pot or deep frying pan
A large mixing bowl
Rolling pin
Pasta maker (optional)
Utensils for cutting dough (optional)
A fork
Method
Add all the dry ingredients (salt and flour) into the bowl and mix together.
Pour in the water, mixing in a little at a time.
Add the shot of cachaça.
Add the lard or oil and stir it in thoroughly, making sure it is completely mixed in.
Remove the dough and knead on a floured bench. Add extra flour if it is too sticky or wet your hands if it is too dry.
Once the dough is silky and springy (this means the dough as a slight shine to it, when you prod it with your finger it doesn't stick, and the indent left by your finger will spring back after your remove the pressure), wrap in cling wrap and leave in the fridge to rest overnight.
When ready to use, remove from the fridge and leave on the kitchen bench (still wrapped) for at least 30 mins to let it warm up slightly. It will be easier to shape.
Grate the mozzarella
Remove from the cling wrap and cut the dough into ten pieces.
On a floured bench, use a rolling pin to roll out each piece of dough into a rectangle of approximately 25cm x 15cm dimensions (don't be alarmed if it is smaller or greater than this, it will all work out). If you have a pasta maker then use it instead.
Imagine drawing a line across the centre of this rectangle of dough, making two 12.5cm x 7.5cm boxes, that is where you will fold the pastel to make it into a pocket. in the centre of one of these boxes place a serving of shredded cheese. Be generous but be careful not to overfill it.
Fold the dough in half so the shredded cheese is covered evenly on both sides.
Using a fork, seal the pastel shut by pressing the fork along the edges.
Place the sealed raw pastel into a floured container to sit until they are ready to be deep fried. Cover with a tea towel or cling wrap to prevent drying.
Fill the pot or frying pan with enough oil to ensure the pastel is fully submerged while frying, then turn up the heat and wait for the oil to be hot enough to fry. **A trick is to drop a small pinch of flour or bit of dough into the oil, if is sizzles, it is ready.**
Drop in a pastel and let it fry until it becomes golden brown on both sides and then remove and place onto a place with a paper towel to absorb the excess oil.
Serve hot with some Brazilian vinaigrette salsa and your preferred sauce. **warning the cheese is VERY hot so be careful**