Brazilian Cookbooks in English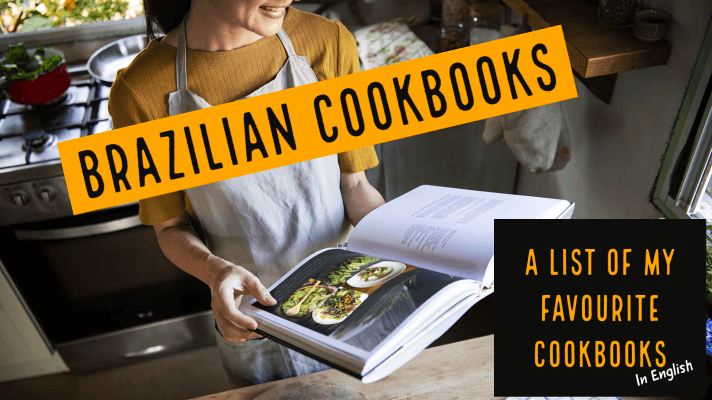 There is something about a good old-fashioned cookbook that is hard to replicate online. Yes, we have Google searches and recipe blogs. Kindle and iPad. However, none live up to the recipe book you can sit next to you on the cooking bench, write notes in, stain the pages with sauce and dog ear the corners of the pages. You can't get thee well-loved look and feel from a tablet that you can from a paper book. Furthermore, you can pass down a family's favourite book through the generations. I regularly use three cookbooks my father bought in the 70s.
Here are two Brazilian cookbooks I consider authentic and that I use as a reference. One book specialises in presenting traditional regional cuisine with a slightly modern twist, and the other is about the world-famous Brazilian BBQ churrasco. However, I will let you know what each book is best suited for. These books also have a Kindle version for the committed technophiles that can't go back to paper.
Vamos là.
Brazilian Food
Thiago Castanho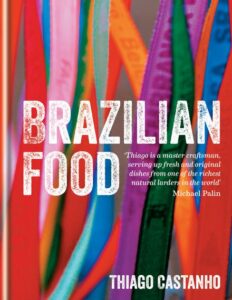 This book is by Brazilian cozinheiro (that's Portuguese for chef) Thiago Castanho, born and raised in the city of belém, located on the Amazon delta in Pára. Belem is famous for being the gateway city to the lower Amazon and the hub for trade in the region. It is on the river but also practically on the Atlantic Ocean as well. Therefore, it gets the most amazing Amazonian fish and Atlantic seafood. The city is also famous for its Amazonian fruits, vegetables and herbs that have been used for cooking by indigenous people for thousands of years. This is where Castanho developed his passion for Brazilian gastronomy. A culinary entrepreneur from his teen years, he started making pizza selling it to his neighbours. Then seafood moqueca stew. Then his family converted their home into a seafood restaurant selling the local catch. Thiago went to Europe to study in a Portuguese culinary school and returned to establish the highly successful Remanso do Bosque restaurant in Belem.
Brazilian Food is a book filled with great recipes. Some are from Thiago and his brother Felipe. Others are from famous contributing Brazilians chefs. I love the food from Northern Brazil and the Amazon region, so this book inspires me (although the Amazonian recipes are hard to cook due to the ingredients being hard to find outside of Brazil). However, the book still includes great classics (with a twist) recipes like galinha caipira (country chicken), plantain moquecas, fragrant rice dishes and bean dishes, street foods, sweets and for his fish dishes can use your local fish as substitutes.
This is a beautiful Brazilian cookbook, very colourful and with lots of clear photos—certainly a great start for anyone looking to explore cooking Brazilian cuisine at home.
Check it out here on Amazon, and also make sure you read the reviews.
Braza: Tastes From A Brazilian Barbecue
Andre Felicio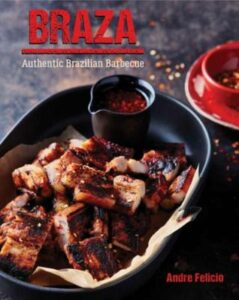 I love this book because I enjoy eating at the author's restaurants, and therefore, I know his recipes work. Andre Felicio, a Paulist (native from Sao Paulo) who moved to Australia and brought his passion for churrasco with him (check out our article on churrasco here). Today he operates several successful churrascarias named Braza Churrascaria that serve amazing authentic churrasco and cachaça. He also sells Brazilian style meats for people to cook at home.
This book teaches you how to cook popular churrasco meat dishes and the classic sides and how to prepare a churrasco like a Brazilian. How to set up the bbq with wood, optimize the heats, and which equipment you should use, etc.
Furthermore, the photography is superb, which helps you know if your end product is correct.
You can get a copy of the book from Amazon here.
Churrasco Equipment
There is some cool equipment that Brazilians use to cook, serve and eat churrasco. Although it is not essential (all you really need is a BBQ), if you want to be authentic or impress your Brazilian friends, consider some of them.
Cooking Brazilian food at home
Still not sure what Brazilian food is? Have a look at this comprehensive article that answers that question. You will love cooking Brazilian food. If you have friends over for a bbq, surprise them with a Brazilian churrasco, it is something different that will blow them away. Feijoada and moqueca are tasty, hearty stews that please the toughest crowd. They are easy to make, and the result is rewarding.
Suppose you have any questions about cooking Brazilian food, where to find ingredients, etc. You are most welcome to contact me directly, and I will help you as best I can.
Aprovite! Enjoy!
Ellioti